AM 820 Summer Open House
June 24 – 28, 10 to 4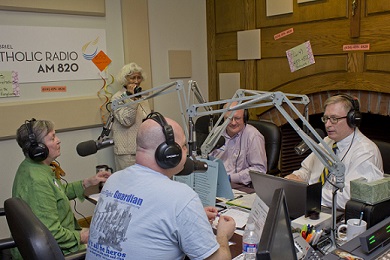 Join our family of radio listeners for a summer celebration at the St. Gabriel Catholic Radio studio.
Let us show you how much we appreciate you! Bring the family! Visit with friends! Meet like-minded people who love the Blessed Mother, Our Lord, and His Church! And, check out the new "Wall of Thanks."
Open House location
4673 Winterset Drive
Columbus, OH 43220
For details, contact us: info@StGabrielRadio.com or (614) 459-4820.
Kroger Community Rewards®

Have you re-enrolled in the Kroger Community Rewards® program for 2013-2014? Now's the time to do it and continue earning reward$ that help your AM 820 Radio family.
Even if you're a member who signed up in January, February, or March of 2013, you still must re-enroll after April 1, 2013 to continue earning rewards.
It's easy to enroll or re-enroll. Visit KrogerCommunityRewards.com, click on "Columbus, OH' and click on "Enroll" to register for the first time. To re-enroll, go to the same website or Kroger.com, and SIGN IN.
Feel free to call St. Gabriel Radio if you have any questions: (614) 459-4820.
Event to benefit the 820 AM radio family
The Aimin' For Heaven Clay Target Classic Fundraiser will be one of four non-profits that will benefit from this June event.
Saturday, June 15th at 2: P.M.
For details, click on "Aimin' for Heaven" link.
Enthronement of the Sacred Heart
What is Enthronement?
A ceremony where Jesus is invited into your home, office, or school as an act of homage to Jesus Christ, King of Kings. Jesus is given authority over your family/household/organization.
A social recognition of the kingship of Jesus over the home and all of society.
An act of reparation to make up for all who have "dethroned" Jesus in our secular world.
An event where an image of Our Lord's Sacred Heart is given a place of honor in the home.
Learn about enthroning the Sacred Heart to protect your home, business, school. SacredHeartColumbus.org
Donate your car to AM 820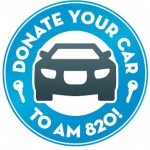 Help AM 820 drive home The Word of God to our St. Gabriel Catholic Radio family.
It's easy to donate boats, motorcycles and RVs, too. Most donations earn a tax break.
Submit your donation form online.
Or call (614) 459-4820.
Be a witness for your Faith
Share your story on the WITNESS LINE!
Call 855-5WITNESS
Join St. Gabriel Catholic Radio AM 820 by touching hearts and changing lives with your story of Faith!
You can also use the written form below.