Offer your family the greatest gift, the gift of Enthronement (or renewing your Enthronement) to the Sacred Heart. You can start at any time, the important part is picking a time that will work for your family.
WelcomeHisHeart.com recommends you do it in 5 easy steps…
1. CHOOSE A SUNDAY for the enthronement ceremony and attend Mass together.
2. SELECT A SACRED HEART IMAGE and invite your priest to bless the image.
3. ESTABLISH A PROMINENT PLACE in your home where you will display the image. Consider placing picures of family members and friends near the image.
4. PREPARE YOUR HEARTS beginning three days prior to the enthronement. Recite the prayers in the booklet.
5. ENTHRONEMENT SUNDAY Gather together and place Jesus on the throne of authority in your home.
Need enthronement materials? Get an Enthronement kit at welcomehisheart.com
Listen to The Sacred Heart Hour on St. Gabriel Radio, live at 8AM every First Friday of the month.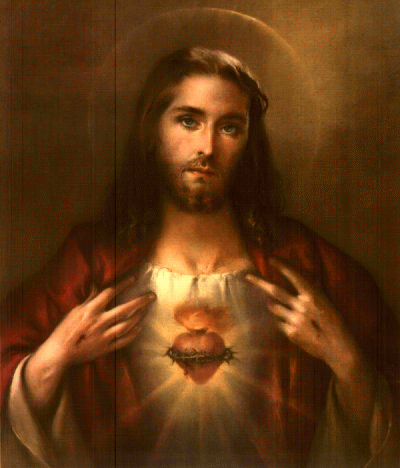 Prayer to the Sacred Heart of Jesus
O most holy heart of Jesus, fountain of every blessing, I adore you, I love you, and with lively sorrow for my sins I offer you this poor heart of mine. Make me humble, patient, pure and wholly obedient to your will. Grant, Good Jesus, that I may live in you and for you. Protect me in the midst of danger. Comfort me in my afflictions. Give me health of body, assistance in my temporal needs, your blessing on all that I do, and the grace of a holy death. Amen.
Learn more about this devotion: Where Did Devotion to the Sacred Heart Come From?
The 12 Promises of the Sacred Heart of Jesus
to St. Margaret Mary Alacoque
"I will give them all the graces necessary in their state of life".
"I will establish peace in their homes".
"I will comfort them in all their afflictions".
"I will be their secure refuge during life, and above all, in death".
"I will bestow abundant blessings upon all their undertakings".
"Sinners will find in my heart the source and infinite ocean of mercy".
"Lukewarm souls shall become fervent".
"Fervent souls shall quickly mount to high perfection".
"I will bless every place in which an image of my heart is exposed and honored".
"I will give to priests the gift of touching the most hardened hearts".
"Those who shall promote this devotion shall have their names written in my heart."
"My divine Heart shall be their safe refuge in the last moments".
"There is pretext for discouragement, but no reason for it.  We can become saints in the simple accomplishment of daily life, in the beaten track, the simple path of Nazareth, without adding anything but the great sense of faith and the flame of charity.  Look at Mary in Nazareth–no halo, no pedestal, no miracle. Yet she is the Queen of Heaven." – Fr. Mateo Crawley-Boevey, a great Apostle to the Sacred Heart. 
Father Mateo Crawley-Boevey: Spiritual Ammunition for the Battle