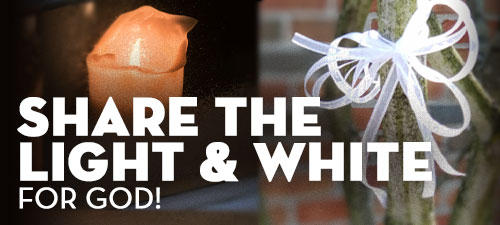 Show the light and white for GOD!!  During this difficult time, let us display white ribbons around our trees, lampposts and doors and place a light in our windows.  By doing so we will remind others that Christ is the light of the world. He is the purity, truth, and hope that we long for. So let us boldly show others that God is not forgotten and display a white ribbon in our yards and a light in our windows.  Let it be a holy reminder that we need you God and we love you God!
Both of these ideas were hatched locally.
"I offer you a simple suggestion and extend an invitation to participate in a gesture of hope.
Please consider placing a light in your window at night. You know the kind, the ones we see at Christmas time! That tradition started in the homes of the faithful who were deprived of the Holy Mass because of persecution. They would place a light in the window and would wait for a priest to visit. The traveling priests would know the homes of the faithful by the candle, the light, in the window." – Fr. Stash Dailey.
The "white" idea came from one of our own board members, Lori Hamrock.
Read More