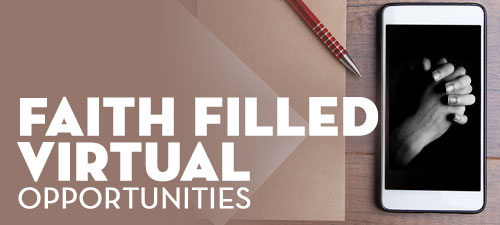 Suggestions for living your best faith filled virtual life during the COVID-19 pandemic . This is a dynamic page so check back for more ideas as we collect them.
List of On-Air Masses

here

.
Prayer:
On St. Gabriel Radio:
Damascus Daily Prayer Lab on air weekdays at 8:14 AM or in our archives.
Rosary: 5:30 AM and 9:30 PM, with Mother Angelica, with Fr. Benedict Groeschel
Divine Mercy Chaplet: On-air 5 AM and 3 PM Divine Mercy in Song, Divine Mercy Chaplet
Marian Consecration Prayers: in our archives.
Around the web:
Pray and hour in the Greater Columbus Right To Life's Virtual Vigil as part of 40 Days for Life. You'll find the link to the sign up here: https://www.gcrtl.org/pray.html
On-line perpetual Adoration. Watch livestream of perpetual Adoration anytime. A couple of these have been put on hold, but many are still live. Some will even tell you how many people are viewing with you. https://virtualadoration.home.blog/ 
MAGNIFICAT is now offering complimentary access online www.magnificat.com/free with as many people as you can. Free temporary access is also available in Spanish: www.magnificat.com/gratis.
Magnificat is also making available complimentary access to MagnifiKid. Visit www.magnifikid.com/free
Pray Novenas with 100,000 of others around the world.  https://www.praymorenovenas.com/ 
Apps:
Hallow (hallow.app) A Catholic meditation app to help you find peace and grow in your spiritual journey
Laudete (Apple iOS) (Android) Laudate includes many awesome resources such as an interactive Rosary, Daily Readings, the Liturgy of the Hours, the Roman Missal changes, and the NAB and Douay-Rheims versions of the bible – all in a simple to navigate layout.
MAGNIFICAT is now offering complimentary access to its iOS and Android Apps throughout May. To register for free access in English, visit www.magnificat.com/free. For free access in Spanish, visit and register at www.magnificat.com/gratis.
Facebook Groups:
Some of these are private and you will have to request access. Most of the time the Admins respond within 24 hours. 
Catholic Parents Who Just Found Out They're Homeschooling & Quarantined:
https://www.facebook.com/groups/846251832540882/
Other Ideas:
Light & White:
Light – From Fr. Stash Dailey, paster of Holy Family Columbus, Ohio: I offer you a simple suggestion and extend an invitation to participate in a gesture of hope. Please consider placing a light in your window at night. You know the kind, the ones we see at Christmas time! That tradition started in the homes of the faithful who were deprived of the Holy Mass because of persecution. They would place a light in the window and would wait for a priest to visit. The traveling priests would know the homes of the faithful by the candle, the light, in the window. We live in a moment and time of precaution. The Holy Mass is still offered, the Light of the world is still present among us. Our hunger for the Lord, our confidence in His Mercy and our trust in His love for us may be offered to the world by a simple light in our windows. This darkness will not over take us for we believe in the One who Lives!
Show your faith in God and encourage others in their faith by tying a white ribbon around a tree in your yard. This idea was offered by one of St. Gabriel radio's board members, Lori Hamrock.